Pioneer living in style
It was 1892 when an iron ore deposit was discovered in the roots of a storm-downed tree just a mile from the Green Gate property. In the decades-long frenzy that followed, adventurous immigrants flocked to what became the "Iron Range" to carve out a new life in this untamed wilderness. Among the most talented and resilient were the Finnish settlers, known for their hand-hewn log homes that symbolize the pioneer life in our country.
We are fortunate to have one of these well-preserved structures at the Green Gate property, and have masterfully modernized this traditional pioneer home. The Green Gate Log Cabin proves that big things can come in small packages; you'll discover everything you need in this cozy well-appointed home with a minimal footprint. The 15′ x 15′ floorplan includes a kitchen, dining table, sofa and wood stove, plus a full bathroom neatly tucked below the loft staircase. Thanks to the Norwegian owner (who also happens to be an engineer), this Finnish log cabin is equipped with modern luxuries that our pioneer ancestors would have never imagined, including air conditioning, in-floor heat, and a high-efficiency tankless water heater for endless hot water. To complete your log cabin experience, there is also a gorgeous glass-front wood stove and always a full supply of firewood available during your stay. The well-appointed kitchen on the main floor includes a 2-burner gas cooktop, farm sink, concrete countertops, an undercounter refrigerator/freezer, coffemaker, microwave, and professional cookware/serving ware for 2-3 guests. A countertop convection oven is also provided in the nearby closet should you need it.
The upper floor provides a cozy resting space with a full-sized platform bed, reclaimed oak flooring, vaulted ceiling, air conditioning, DVD player, and great views of the surrounding forests. Outside, the wrap-around porch covers the south and west sides and extends to the adjacent hewn log "privy" nearby for those preferring a truly 'authentic' log cabin experience.
Amenities
Perfect couples getaway
Sleeps 2-3
A/C
In-floor heat
Indoor woodstove, outdoor firepit
Full kitchen, bathroom
Loft bedroom with full bed
Easy year-round accessibility
Forest views
Wrap-around porch with Adirondack lounge chairs
outdoor campfire
Lake & river access within walking distance
Direct access to Mesabi Trail
Ski/snowshoe/hike!
2018/19 Rates
Sunday - Thursday
$179 per night
Friday & Saturday
$199 per night
Weekly
$1099 per week
*Visit our Policies Page for more info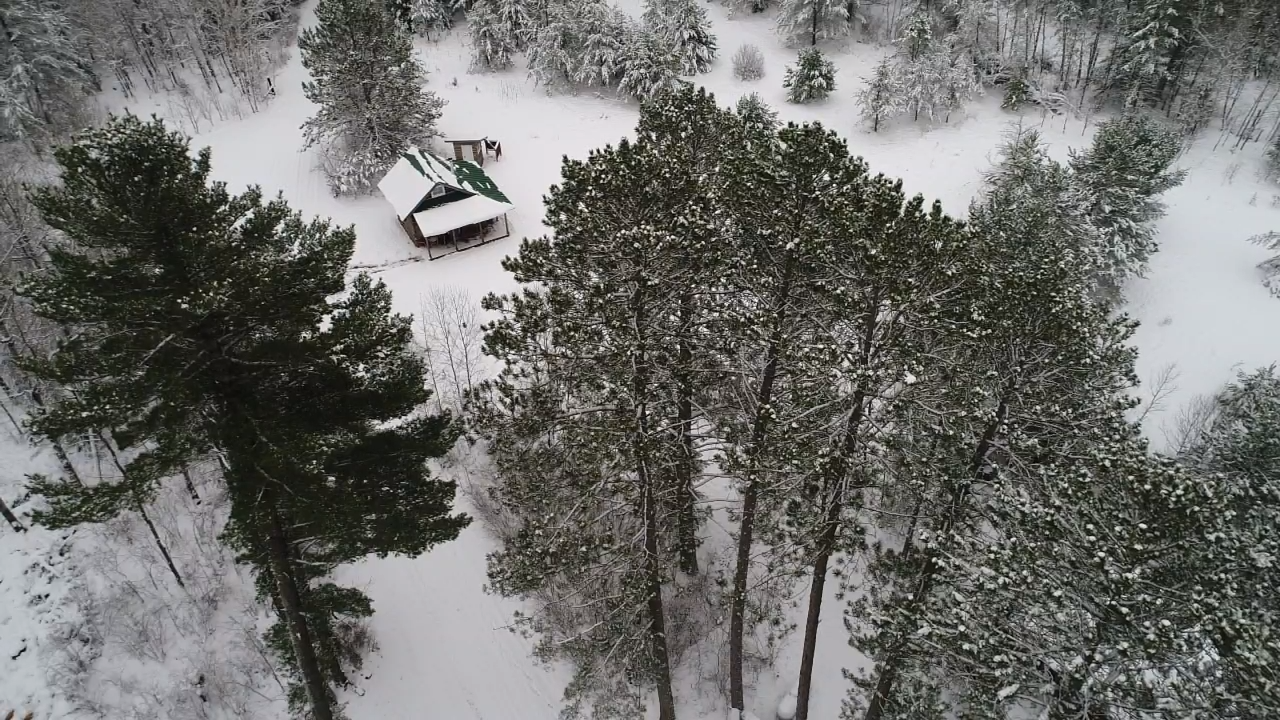 Charming, warm, clean; everything you need
"This little cabin was perfect for two of us for a cc-ski weekend. Proximity to Giants Ridge and good restaurants in Gilbert and Biwabik was great. We loved the wood burning stove after dark (tip -the perfect background soundtrack was Radio Heartland, streaming on the Minnesota Public Radio mobile app played through the nice quality Bluetooth speaker in the cabin). We also loved the heated floors. The upstairs bedroom was more spacious than we expected - well planned space for suitcases, place to hang clothes; outlets and lighting strategically placed. Everything was perfect - clean and new. We would love to stay here again - maybe for a biking weekend so we can take advantage of the porch."
— F.F.
Cozy Cottage
"My husband and I stayed here for the Minnesota State High School Nordic Meet.
This place was charming, comfortable and offered a warmth making it feel like home. The place was extremely well kept and clean and the owners were wonderful. We definitely recommend this home."
— J.S.
Lucky
"A smile swept across my face as I set foot on the perfectly imperfect front porch. It was a long-awaited moment. I let out a sigh of gratefulness as I opened the door to the delightfully decorated, well-appointed, everything-just-so, tiny cabin.
Both inside & out - my girls and I enjoyed every moment. Shawn is simply amazing in his attention to detail and all who are lucky enough to experience his work - are lucky."
— R.P.
Next to Everything. Away from it all!